Enemy at the Gates: The Regime Offensive Focusing on Atarib
Dr Can Kasapoglu, Security and Defense Studies Program Director
Emre Kursat Kaya, Research Fellow
What Happened?
Having recaptured al-Neirab, the regime offensive now focuses on the Atarib axis. Atarib is situated in the north of Idlib, on the way to the town of Samada. Samada is strategically located along the lines of communication between the main Turkish border crossing and Idlib. Additionally, the area hosts a large number of internally displaced persons (IDPs).
Following the downing of a Mi-17 utility helicopter near al-Neirab by the opposition's MANPADS use, the Baath regime forces now tend to use heavy artillery shelling instead of barrel bombing by rotary-wing platforms.
As of February 14, 2020, several reports suggest that the Russian Aerospace Forces have resumed their airstrikes.
Meanwhile, Turkey continues to send convoys of heavy armor, artillery systems, and multiple launch rocket systems to the area of operations.
Open-Source Intelligence Assessment
For the last three days, the Syrian Arab Army, accompanied by paramilitaries including the Lebanese Hezbollah, have shifted their offensive campaign to Atarib. Assad's forces captured several villages along the M5 highway, en route to the town. Furthermore, the Syrian Arab Army has surrounded the 46th Regiment base, situated between Aleppo and Atarib. The base hosts forward-deployed Turkish units.
As demonstrated in the map below, capturing Atarib and Samada will deliver three outcomes for the Baath regime: (1) cutting the main lines of communications in the area, (2) cutting the supply routes between Idlib and western Aleppo; (3) putting pressure on Turkey by threatening almost one million IDPs living between Samada and the Bab al-Hawa crossing.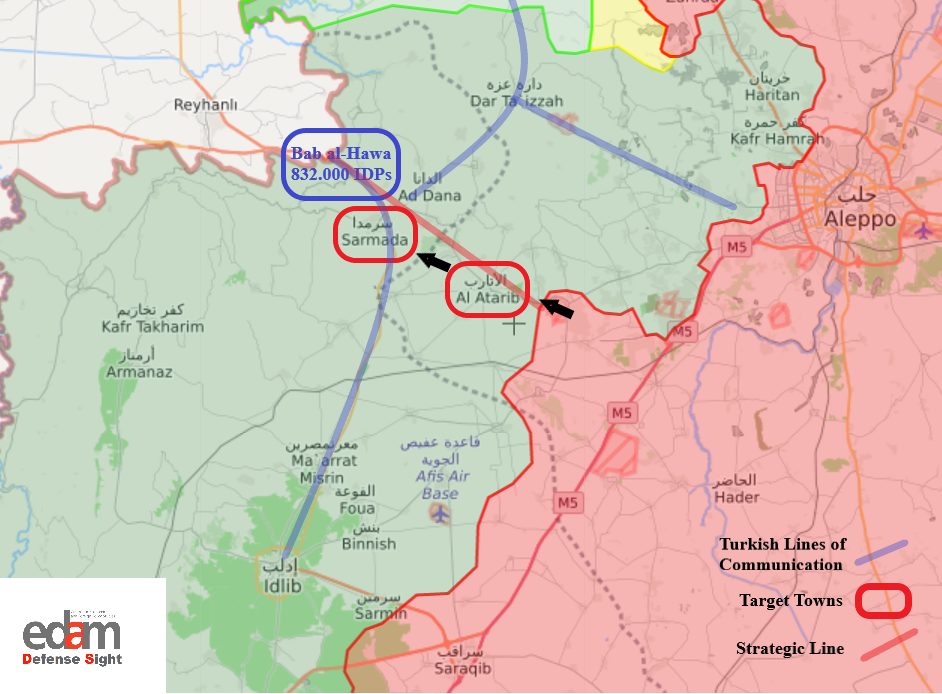 Syrian regime offensive route and Turkish lines of communication. LiveuaMap.com map, visuals and military assessment by EDAM's research team.
Turkish artillery dispatched between Idlib-city and Atarib.
Political-Military Assessment
Ongoing Russian air-strikes suggest the still present divergences between Moscow and Ankara. In the absence of the Kremlin's mediation, prospects of direct confrontation between the Syrian Arab Army and the Turkish Armed Forces remain highly likely.
The regime's Atarib offensive is posing a significant threat to Turkey's strategic interest in Syria, as well as its border security. Thus, as the regime fosters its campaign in this front, we anticipate more Turkish military involvement in the Idlib conundrum in an effort to halt the Syrian Arab Army.