OPERATION PEACE SPRING SITUATION REPORT 10/10/2019
Dr. Can Kasapoglu, Director of Security and Defense Research,
Emre Kursat Kaya, Research Fellow,
Gizem Okumus, Research Assistant
As the first 24 hours of Operation Peace Spring nears the end, Turkish Ministry of Defense announced that the air force, artillery & MLRS (multiple launch rocket systems) hit around 200 targets, and reached the designated initial tactical objectives successfully. President Erdogan announced that so far, more than 100 PKK/YPG militants were killed.
The campaign commenced by airstrikes and artillery shelling along the Syrian border, ranging from west of Ayn Al-Arab all the way to the Iraq-Syria-Turkey border areas. Turkish manned aircraft penetrated into 30km deep Syrian airspace. Mostly, the air interdiction has focused on Tal Abyad and Rasalayn, the two operational objectives for the ground offensive. Turkish military planners prefer enveloping the militant positions in these towns, and cut their lines of communications before the urban warfare phase. Open-source intelligence suggests that the Turkish ground forces have already secured 10km depth in some areas, and seized several villages around Tal Abyad and Rasalayn.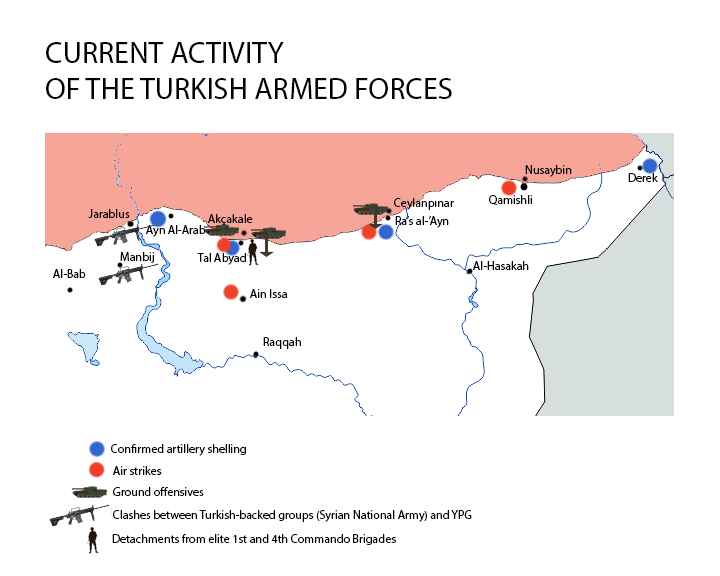 At the time of writing, our monitoring spotted artillery shelling in Al-Hasakah province, airstrikes in Tal Abyad, and clashes between the Turkey-backed Syrian National Army (SNA) and the PKK / YPG militants in several areas. Finally, Turkish press sources reported that detachments from the 1st and the 4th Commando Brigades crossed into Tel Abyad. These brigades are elite and highly combat-capable warfighters, specializing in counter-terrorism operations. Along with other units, the 1st and the 4th brigades also took part in Operation Euphrates Shield and Operation Olive Branch.
The first phase of the campaign delivered heavy firepower at the outset, resembling the overture of Operation Olive Branch. The air force, notably, hit a target set extending hundreds of kilometers along the border. At present, the Turkish military avoids rushing into risky urban warfare without fully besieging the towns, cutting possible routes for reinforcements. As we have concluded before, the air force can generate high sortie rates thanks to the nearby airbases. The intensive concentration of artillery and MLRS pieces behind the lines of contact offers key advantages to the ground offensive.
So far, the operational tempos of land-based fire-support elements and the air force remain high, while the ground troops have been operating cautiously. A decisive armored blitz by the principal maneuver unit, the 20th Armored Brigade, still remains to be seen.