TIME IS UP IN IDLIB:
TURKEY LAUNCHES OPERATION SPRING SHIELD
Dr Can Kasapoglu, Security and Defense Studies Program Director
Emre Kursat Kaya, Research Fellow
What Happened?
In the last few days, tensions over Idlib have reached a whole new level. The deaths of 34 Turkish soldiers as a result of a Syrian Arab Air Force / the Russian contingent air-strike have provoked an unprecedented response from Turkey.
The Turkish military has dispatched its combat-proven unmanned aerial systems (UAS). Turkey's indigenous drones have inflicted heavy personnel and material losses to the Syrian Arab Armed Forces and pro-regime militias.
The deadline set by Ankara for all the Baath regime forces to withdraw to the Sochi agreement delimitations has expired. Under active conflict conditions, President Putin and President Erdogan will meet in Moscow, on March 5th, to discuss de-escalation.
As the tensions heightened on the ground, the Turkish Air Force downed two Su-24s of the Syrian Arab Air Force.
Turkey's Minister of National Defense, Hulusi Akar, announced that Turkey has officially launched its fourth military campaign in Syria: Operation Spring Shield. This marks the first time Turkey primarily aims at hammering the Syrian Arab Army.
Open-Source Intelligence Assessment
The Turkish Defense Ministry has announced that its forces have successfully neutralized three Syrian air defense systems including the one which downed a Turkish Anka-S unmanned system. Turkey's F-16s also downed two Syrian Su-24s, using beyond visual range air-to-air missiles.
In the last 24 hours, Turkish artillery units and drones targeted a large number of regime positions as follows*:
Tel-Rifaat, co-habited by regime and SDF forces;
Nubul & Zahra, a pro-Iran regime stronghold;
The Nayrab Military Airbase in Aleppo;
The Safirah defense factories;
Several SAM and MLRS systems on the M5 highway;
Arimah, a regime-controlled town West of Manbij;
The Hama Military Airbase (*Unconfirmed by our OSINT monitoring whether it was the Turkish Armed Forces or the armed opposition that targeted this particular facility);
High-grounds in southern Idlib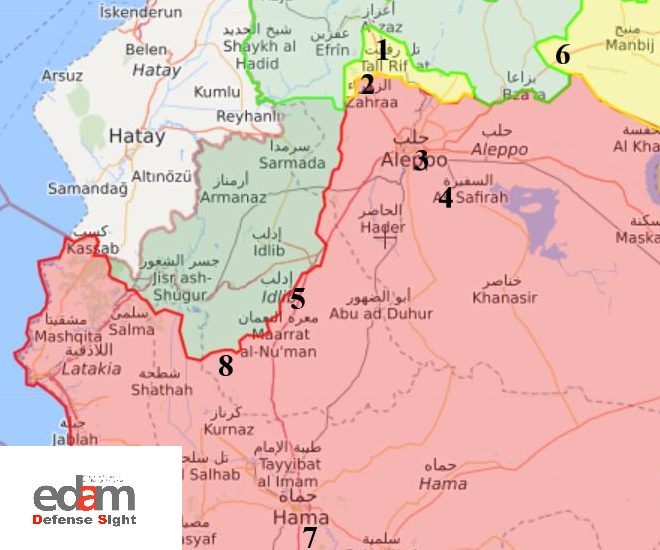 Strategic locations targeted by Turkish artillery shelling and UAVs. Map courtesy of LiveuaMap.com.
Turkey also targeted several pro-Iran militia groups, including the Lebanese Hezbollah, operating in Idlib and Aleppo.
Meanwhile, Turkish-backed rebel factions have staged a counter-offensive in southern Idlib. Rebel forces are focusing on controlling some tactically crucial positions overseeing the M5 and M4 highways. So far, with the backing of Turkish artillery units and armed drones, the offensive has proved to be successful. Rebels have recaptured several villages.
Political-Military Assessment
Turkey's counter-offensive has two dimensions. First, it is a punitive campaign in essence, cornering the Syrian Arab Armed Forces in the area of operations around Idlib, in response to the Russian-backed regime air-strikes which claimed the lives of Turkish troops. Second, from a military standpoint, Ankara aims at reversing the tactical momentum on the battleground before the top-level meeting in Moscow, on March 5th.
Using unmanned aerial systems has been a game-changer for Turkey in the Idlib conundrum. In the absence of manned military aviation, drones proved to be almost the only game in the town. On a separate note, Turkey's UAS proliferation has now reached a critical mass. In the coming years, more advanced platforms with larger payloads and more sophisticated sensors, most notably the Akinci, will play critical roles in Turkey's warfighting capacity and military-strategic posture.
At the time being, although the Syrian Arab Armed Forces have faced serious attrition, there is no visible sign of withdrawal or cease of the general offensive. So far, the regime's momentum has been halted, and partially reversed, in some fronts like Saraqeb.
At the time being, the most critical trend to monitor remains Russia's stance as to the Turkish armed drones over Syria.